Riding our motorcycles last week through Yellowstone National Park on our annual Miles for Life charity ride brought to mind one of life's favorite lessons. The Parable of the Pine Cone.
As we rode through the park, we saw acre after acre after acre of lodge pole pines that were of similar height. In 1988, a fire raged through Yellowstone that burned over 1 million acres. One of nature's little secrets is that the pine cone of the lodge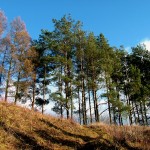 pole pine only releases its seeds under intense heat. So as the trees were burning, the heat simultaneously released the seeds from the pine cones that provided for a seeding of a whole new forest after the fire. That's why so many of the pine trees are all the same height. The seeds released by the heat of the fire started a whole new forest.
The entire process is a good reminder from nature that the seed of opportunity lies within intense opposition. In fact, the opportunity is not released in many cases without opposition.
The story of the Yellowstone fire and its moral became the subject of our book entitled, "Born from Fire."   The book has some amazing photography of the fire and the resulting rebirth of a new forest, along with the stories from remarkable lives that were "born from fire" or opposition.
If you don't have a copy of "Born from Fire," we consider it essential for every office and every team member. It is a message about which everyone needs to be reminded.
You can order copies of "Born from Fire" by going to: www.store.crowncouncil.com