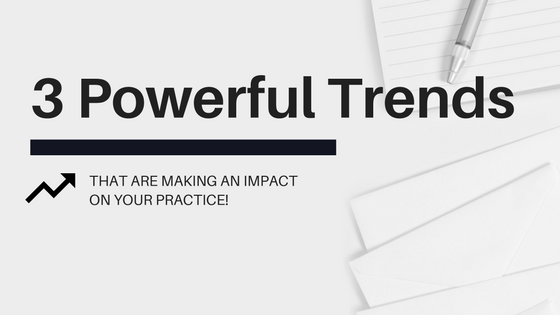 Fast forward to today. Three new powerful trends are colliding:
1. 10,000 Baby Boomers a day are turning another year and are more and more concerned about their total health.
2. Science has identified the correlation between oral health and total health.
3. Trends in health care delivery are forcing more and more health related services to other places.
People are not getting the time and attention from their primary care physician like they used to.
Think about it. Many people see their dentist a lot more often than they do a physician. Most people only go to the physician when they are sick. A few go in for a regular physical exam. For the most part, people treat their physician the same way they treated the dentist 60 years ago. They only go when it hurts!
With more frequent visits, a focus on wellness and health, and the ability to see in the mouth the symptoms of many other problems in the body, the dentist is rapidly become THE front line health care practitioner.
It's time to rethink your position in the market.
1. How are you positioned in the minds of your patients?
2. What can you do to take advantage of the powerful trends above?
3. In what ways can you expand the scope of what you discuss with your patients to be more "whole health" oriented.
Today, patients expect you to address whole health issues, not just "teeth" issues. What's going on in the mouth is attached to the body. In what ways are you becoming the "physician of the mouth?"
Things are changing. Are you? To make sure your practices stays ahead of the trend, join us at our upcoming No More Hygiene course in Boston, Massachusetts. Discover the secrets of modular periodontal disease that is proven to cure disease, save lives, and grow your practice. For more information or to register your team, visit www.nomorehygiene.com today or give us a call at 1-877-399-8677.