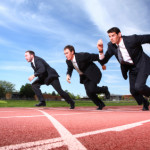 Should you sell your practice because there is too much local competition and look for greener pastures elsewhere?  This is a question that was posed to me recently by a dentist who had been advised by his CPA  to sell the practice.  Before the "for sale" sign goes up, here are some thoughts for every dentist to consider about your practice.
Who is your competition?  We know that 50-60% of the dental uninsured do not go to the dentists on a regular basis.  40-50% of those that are insured do not go on a regular basis either.
Think about it: if you had a business where every human is a potential prospect and half of them had no current supplier, would that be a good opportunity? Maybe the biggest competition is not the dentist down the street but tapping into the underserved or not served market.
Here are some "competition" questions to consider:
How much unscheduled treatment have you generated? When's the last time you ran your unscheduled treatment report?
What's your marketing budget? What is your strategy and plan for marketing for new patients?

How many patients that came in today scheduled their next appointment before they left?

How many 5 star reviews do you have online?

How many referrals did you ask for today?

When's the last time you had Practice Growth Analysis done to see where all the untapped opportunity is in your current practice?
Before you think the competition outside of your practice is tough, look at what you're doing to compete inside the practice.
PS—If it's been awhile since you've had a practice 'tune up', schedule your next "Maximum Reimbursement" analysis TODAY to discover the exact dollar amount that's sitting in your practice now!