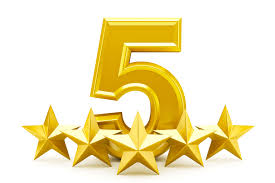 Having just wrapped up the Dental Digital Marketing Conference (www.DentalMarketingConference.com) we discussed the secret of getting more 5 star on-line reviews.
In addition to having great software to help the process, the secret rests in one thing that we teach at our Total Immersion course https://totalpatientservice.com/services/total-immersion-experience.
Here's the formula:
1. Identify at least 2 patients each day in your Morning Opportunity Meeting that are good prospects for writing an on-line review.  Patients with an existing gmail address are good prospects because they don't have to create a Google account to leave a review on Google. Make sure the patients you choose are ones that you would like more of, that have had a great experience in your office.  Why only 2?  Because it takes time and effort to get a quality on-line review so 2 is manageable.  
2. ASK – "Mrs. Jones, I wanted to thank you for being a great patient.  In fact, we know that there are many people who are missing out on great dental care because they just don't have the confidence in a dentist that they know.   So, we need your help!  Would you be willing to share your experience briefly in the form of an on-line review so that others might benefit like you have?"  
3. Then ask the patient to take out their phone.  If you have to, and usually you do, show them how to get to the place where they can leave the review.  Even if you have software that prompts them how to get to the review site, you will still need to help them get there. (Make sure they are on their cell network and NOT on our office wifi network.)
4. Give them a few minutes to type their review and submit while they are in the chair.  (This is another reason to choose 2 patients a day! It takes time to get a quality review.)
5. Thank them for taking the time to write and leave the review.  You might consider giving them a small gift card as a thank you.  (Consider that a "thank you" is different than an incentive.  A thank you is given after the fact.  An incentive is offered in advance.)
Take the time to sit down with your team this week to review your strategy for getting more on-line reviews.  Skill practice the verbal skills above to ASK the right way.
Good luck boosting your on-line review results!