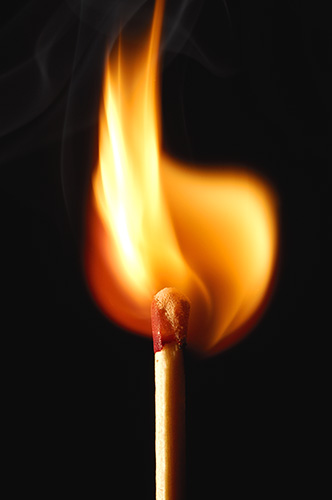 On the wall of my office is a large frame that contains my Eagle Scout Award and my picture as a teenager.  One of our suppliers was in my office recently and spotted the frame and commented about the benefits of Scouting and then added, "That's great you helped your SON get his Eagle."  Wow!  I did not realize I looked that old!
Even though my experience in Scouting took place over 3 decades ago, the lessons learned are as fresh as if they happened yesterday.  They are lessons that serve me well today.
For example…
One of the keys to building, starting and maintaining a campfire is having and continually providing the right fuel.  The fuel that it takes to start a fire is different than the fuel that it takes to keep the fire burning.
Translation…
Regularly I get asked what it takes to stay motivated; what it takes to keep the "fire" burning.  There are a few basics that are required to start the fire of motivation and to keep it burning brightly:
A personal

vision

of what you are working to accomplish that excites you.

 The

right people

that surround you who support and work with you to carry out that vision.

Continually

adding knowledge

to your brain bank of things that will move you closer to your vision.

Regularly

feeding your mind

with positive, uplifting literature and material that puts you and keeps you in the right frame of mind.

Regular

physical exercise

to keep your energy high.  There is a direct correlation between your physical health and fitness and overall motivation.   
So what are you doing to fuel the "fire?"  Motivation is not something that happens to you any more than staring a fire is something that happens spontaneously.  You make it happen by following simple rules.
So get on track with building and fueling your fire, whatever your fire is for.  Find the fire, build it and let it burn bright.  Just like I learned in Scouting, camping (life) is a lot more fun and enjoyable around a warm fire that burns bright.