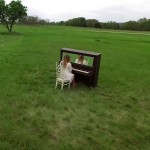 Last Memorial Day weekend, our daughter Abby performed her arrangement of "My Country Tis of Thee" entitled "Let Freedom Ring" for a local school graduation.  The events that followed that performance resulted in her appearance on national radio and TV with tens of thousands of downloads of "Let Freedom Ring" the proceeds from which she donated to charity benefiting veterans.
Today, Abby lives in Nashville and is producing some amazing work that is touching the hearts of people everywhere.  Last week, as a gift to our vets, she released her arrangement of "The Star Spangled Banner" with an introduction that will send chills down your spine.  Few people have read the other verses of our national anthem.  Abby creatively took the message of the third verse of our national anthem and turned it into the introduction.  I hope you will listen carefully to the message of that introduction.  It is a powerful reminder for all of us.
You can view the music video on Youtube:  https://www.youtube.com/watch?v=oRajYXZ1EfM
All proceeds from the downloads on iTunes go to charity:  Abby Anderson Star Spangled Banner
I hope you will take just a moment to listen, contemplate, and appreciate the sacrifices that have been made for all that we have been given.  Then pass on the message by sharing the song on your social media.
Have a great Memorial Day and the freedom that goes along with it.