Six months ago I made the emotional decision to run my first marathon. I am not sure what inspired it. I have never done one. My typical running workout for years has been three miles at a time…max.
So, I followed conventional wisdom and signed up for the marathon and paid for it in full WAY in advance as a way to keep my commitment. As luck would have it, it was scheduled Memorial Day weekend when several of my older daughters and their friends were coming in town for a wedding. They all were excited to cheer me on. The plan was set!

Then the pandemic hit. Marathon canceled. Or at least the official one. I will admit that I had thoughts of throwing in the towel on this one and waiting for another day. But then again, anyone can give up. That's the easy thing to do. So, I decided to continue training for marathon day…as scheduled.

Anderson Marathon: No real official starting line. No crowd. (Wedding was canceled as well.). No official course. No running buddies. No official time lock except for my Nike Running App. It was a pretty lonely 26.5 miles (I added .3 miles for extra measure to do more than required!)

While my daughters who were going to be here were not able to come, I did have @AbbyAndersonMusic playing on my phone as I ran to keep me going and when started down the literal "home" stretch down the driveway, I could not help but smile when I saw the surprise finish line banner designed and sent via FedEx office from New York by daughter @AshlinAlmquist.. The medal? Well, it's my Eagle belt buckle tied to a ribbon creatively designed by son Owen and good friend Ryan.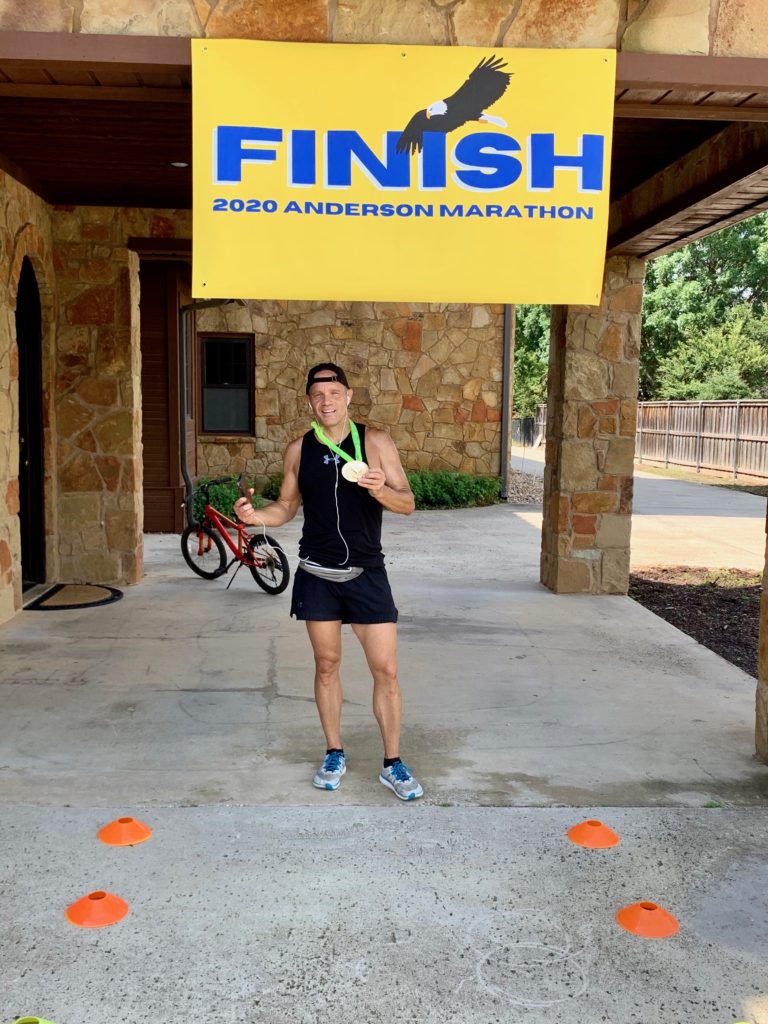 Mission accomplished. Goal achieved, despite the change in the world. Even when the world gives in, we don't have to give up!