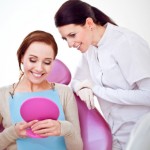 Cosmetic Dentistry Comes of Age
Ironically, what most call the golden age of dentistry has little if anything to do with gold, but everything to do with porcelain!
As technology and materials evolved in the late 80's and early 90's, it became obvious that dentistry could make teeth that looked as good or better than the original. What's more, this emergence of technology converged with a very powerful demographic trend, the maturing of the Baby Boom Generation into middle age. And when you have two very powerful trends converge, you get an explosion.
Born right after World War II, the Baby Boom Generation has redefined every age of life through which they have traveled. A whole new industry was created around baby care when they were infants. They redefined music and morals in their teens and 20's, ambition and earning in their late 20's and 30's with new terms like "Yuppie" and "upwardly mobile." And when they hit midlife in the highest income earning years between ages 45 and 55, they were determined to look good and feel good, and they had the money to spend on it. Dentistry was uniquely positioned to accommodate and the 3rd Generation of dental care was born.
3rd Generation patients are characteristically focused on aesthetics. It's all about the look. Many  if not most, have done their research and have become somewhat educated on the treatment options of veneers, orthodontics, whitening, and more. To them, a beautiful smile is a status symbol and a sign of sophistication. They view a beautiful smile as a key to attraction when it's right and a big distraction when it's wrong. They usually know what they want. They are just trying to find the right person they trust to do it.
3rd Generation patients are seekers. They are usually actively looking for what they want. They will talk to friends and coworkers about their preferences in appearance and providers. They will search online for options, opinions and offices. When they arrive they are evaluating you, your office, and whether or not they will trust you with their smile. Once won over, they'll be ready to do the whole thing.
3rd Generation patients are attracted to practices that look the part. If they want to look good themselves, they are naturally attracted to a practice that is aesthetically appealing in design with personnel and practitioners who LOOK like they are products themselves of what the practice can produce for its patients.
You can take advantage of 3rd Generation Patient opportunities by:
1. Taking a look around. Does your practice and its appearance look like a place where people would expect cosmetic related procedures to be done?
2. Are the personnel in the practice (including the doctor) examples of what cosmetic dentistry can do?
3. Is the practice easy to find on the internet when it comes to cosmetic dentistry? Has your website been optimized for cosmetic related procedures?
4. Does the practice look for opportunities daily to introduce cosmetic dentistry to qualified existing patients who might not have considered previously?
3rd Generation Patients are looking for someone they can trust to make them look good and feel good. Have you made it obvious to your market and your patients that you are qualified and equipped to do that for them? Every day there are patients looking for the best way to look good and feel good. You can attract 3rd Generation Patients by being positioned properly and actively looking for 3rd Generation Patient opportunities every day in your marketing and your existing patient base.