It was early 1989 and I was on a fast track to nowhere, or so it felt. I had figured out a way to complete a four-year undergraduate degree in business management in two and half years. The only problem was, I had no idea what I was going to do when I graduated. I had spent my college days selling real estate, but I had some doubts about that being my long-term direction.
For the next ten months, I worked my way through over 60 mentors who I interviewed for information, to see if they could provide some direction. (I interviewed them, not the other way around.) Through introductions from those who had a vested interest in my success like my father, older brothers, and an uncle, I found myself in front of some of the best business minds in America. It was the greatest learning experience I'd ever had at that point in my life. What I learned from each one of them changed the course of my career and my life.
Early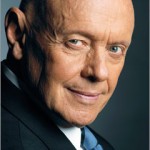 in that process, I sat down at the Salt Lake City International Airport with Stephen R. Covey. Dad had known him for years, but he was yet to enjoy the widespread, worldwide fame that he eventually accomplished. Covey had just finished writing 7 Habits of Highly Effective People. It was on it's way to becoming the best selling self-improvement book that would ultimately make him known as the "Yoda" of self-help for the next two decades.
He agreed to meet with me during his wait for a flight to New York. Over a bowl of chili, his personal discussion with me fundamentally changed my vision and my direction. When they called his flight and he got up, I walked away a different person.
The first of Covey's 7 Habits is "Begin with the end in mind." I had not even read the book yet because it was so new. But it is not surprising to me today that our discussion that day centered around "Habit 1." I was at the beginning of my career. He challenged me to see the end before I began.
That ending, however, had more to do with the "why" of what I was going to do than the "what" I was going to do. In other words, what was my purpose? As an illustration, he clearly and articulately explained to me his purpose, the purpose of The 7 Habits, and the purpose of his work. He was so clear about it in fact, that I can still feel the conviction in his voice and the power of his words. The 7 Habits was more than a mere book to him. And that trip he was about to embark on was more than a business trip or a "job." He knew exactly what he was doing and WHY.
As he flew off that day and I drove home, my thought process was totally different than it had been when I walked in. I was less concerned about "what" I was going to do and more concerned about "why." He helped me understand that the "why" is the engine that fuels the "what."  Without a "why," the "what" looses its magic and its motivation.
Stephen R. Covey passed away this week. His legacy is left behind in 7 Habits of Highly Effective People that will ultimately become a classic along side How to Win Friends and Influence People and Think and Grow Rich. But his personal impact on me that day over a bowl of chili goes way beyond a book. It forever changed my direction. He lit the match behind the fire that burns today as my own personal "why."
A few years ago I met up with Steve Covey as we appeared on the same stage at a convention at which we had both been asked to speak. I thanked him then for his gift of purpose; the gift of finding my "why" that he gave me years before. It is a gift for which I will ever be grateful. Its impact in my life will be felt for years to come.