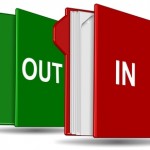 Spending three days this last week "outside" dentistry with a master mind group of people who do similar    things as we do at Total Patient Service, but in different industries highlighted a critical fact of success:  You  have to "get out" every once-in-a-while in order to "in" to what you are doing.
Sometimes we get so narrowly focused on what we perceive is going on in our own world that we lose sight of  the bigger picture.  Being part of a master mind group where you share what is working for you and learn  from what is working for other people does a number of things:
Gives you valuable input on critical issues that you may have never considered.
Gives you a new perspective on what is possible.
Injects new ideas into your business.
Helps you think on a

higher level

.
Gives you an opportunity to consider things you may not have taken time to consider or may have never considered at all.
That is why I am looking forward to our own ToPS Year End Planning Round Table on November 21-22, 2014 in Dallas, TX.  ToPS and Crown Council teams from all over the country come together for two days of learning, idea exchange and practice improvement in a master mind setting.
Get a sneak-peek at a ToPS Round Table by going to:  https://totalpatientservice.com/services/round-tables/
Come join us for our next Round Table.  It will expand your thinking and expand your practice!