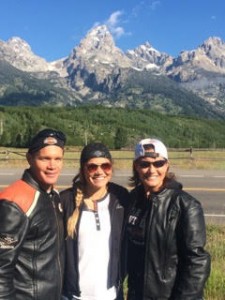 I'm just back from our Miles for Life charity motorcycle ride where over 20 dentists and their spouses rode through Yellowstone National Park and surrounding areas.  The ride benefits the Smiles for Life Foundation (www.SmilesForLife.org) and the humanitarian work we are doing in the Dominican Republic and other parts of the world.
 You might not suspect that significant life lessons could be learned on a Harley-Davidson Motorcycle, but they can!  One of the most significant lessons and reminders for life is this:
The bike goes where your eyes go.  In other words:  Look where you want to go.
One of the first lessons in motorcycle safety is that you have to be very careful where you look because the bike will follow.  If you are nervous about going off the side of the road and that is where you are looking, that is exactly where you will go.  If you are negotiating a turn in the road, you look through the turn to where you want to end up, and that will where you will arrive.
It seems like a simple enough concept…look where you want to go.  But it is tempting to let fear take over and start looking in the direction of where you are afraid of going.  And if you do, that is exactly where you will end up.
Life is the same way: Look where you want to go and stay focused on that destination.  Whether it is a production goal, a life goal or a personal goal, stay focused on the end point and you will be more likely to get there than if you look at the obstacles and hazards along the way.
Our next Miles for Life ride benefiting Smiles for Life will be August 17-20, 2016 when we will motor to the Grand Canyon and the National Parks of Southern Utah.  The ride always sells out so you can register today by going to:  http://www.learningcurves.net/august-2016/
Click on the "register" icon to complete the registration form and return.
Even if you have never ridden a motorcycle before like Cheryl and I before we jumped on board, you have a year to learn!  There are some great life lessons to learn on a Harley, it benefits a great cause, and…it's a lot of fun.
Ride on!