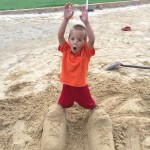 Each week for the last 10 years, we have sent out the Morning Opportunity Meeting (M.O.M.) Action Thoughts to practices around the world so that everyone can conclude their M.O.M. on a positive note to get their day started right.
The thought for this Friday is:
"I have always been delighted at the prospect of a new day, a fresh try, one more start with perhaps a bit of magic waiting somewhere behind the morning."  J.B. Priestly
If you have been with us for one of our ToPS Total Immersion courses, you know about Cheryl, my wife.  She is the one who constantly exemplifies the thought above to me.  Almost every day I will be greeted when I get home or I will get a phone call from her that always starts out "Honey, you won't believe what just happened!"  Then what follows is a story of some "magical" thing that has happened that day.  I decided that maybe the reason there are so many "magical" things that happen in Cheryl's life is because she expects magical things to happen!
It was nearly five years ago that Cheryl called me with one her daily "Honey, you won't believe what just happened" calls.  On that particular day it was the announcement that she was five minutes away from picking up a one month old baby boy!  It was totally unexpected and…magical.
We will celebrate Owen's fifth birthday on March 22nd and it has been 5 magical years just like every day, month and year has been with each of our 7 children.  He continues to give each of his 6 sisters a run for their money, but they love the OBB. (Only Baby Boy.)
So, look for the magic every day.  Whether it is at home or at the office, life is full of magical moments if you look for them and expect them to happen…every day.
Make it a magical day!