Spending some time doing some one-on-one training in the front office of a practice on the East Coast this week, I met Harriet (not her real name) who walked in with some sever pain on the entire right side of her face. I welcomed her, asked her a few questions, got to know her briefly, and then went to see if there was a doctor available to see her. There was.
In the few brief minutes that followed, I asked a few questions to understand her story: Originally from Nigeria, nurse's assistant, never been to the dentist…ever.
With many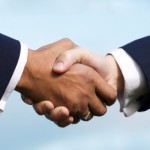 of the other team members listening from the treatment room next door, I walked with her and introduced her to the dentist and dental assistant with a good "relationship link," which is characteristic of our ToPS training. The doctor did a great job of using the skills we teach to really connect with her.
Later, I returned to her and the doctor as they wrapped up the time in the treatment room. The doctor did another great relationship link with me and then I walked her to the consult room to talk with the treatment coordinator.
After the schedule was arranged and financial arrangements completed, I walked with Harriet to the front door. She looked at me before she left and in her Nigerian accent said, "I wish the people everywhere I go were as nice as all of you people here. Thanks for taking such good care of me today. I think God sent me to you today because he knew I needed help and He knew you would help me."
It would have been easy to look at Harriet as just another patient coming through the door. It would have been easy for everyone to think that they were too busy to give her any personal attention. But this team didn't.
Every day you have a choice: to do your "job" and go through the motions of the tasks at hand, or to serve people in an extraordinary way – to show that you really care.
Make the right choice.
Show that you really care.
Make a difference.