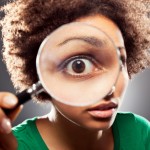 Remember back when you played with a magnifying glass as a kid?  It was fun to see the image of things expand as you focused the magnifying glass on them.  You harnessed the light of the sun and when you focused it just right, the heat of the sun's rays expanded and turned into fire.
That magnifying glass is alive and well in our minds as well.  What ever we chose to focus on in our lives expands.  If you focus on your problems, your problems expand, get bigger, and get more complicated.  If you focus on your inabilities, you render yourself incapable of making any progress.
If, on the other hand, you focus on what you can do instead of what you can't, your abilities and motivation will expand accordingly.
Start with this simple exercise: find one thing that is working on your team; a bright spot.  Then compliment your team.  Thank them for making that area work.  Focus on it.  Then watch other areas improve as well.  Focusing on what is working tends to spill over into other areas that we can make work as well.
It all depends on where you place the focus.