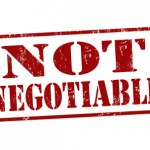 When you boil it down to the basics, there are a few non-negotiables for case acceptance success.  Many of      those have to do with the process through which you walk your patients.  For example, if you were to do no  diagnosis, it would be pretty difficult to present a treatment plan.  Clinical diagnosis is a non-negotiable.
Another non-negotiable in the Total Patient Service case acceptance system is the New Patient Relationship Form.  Over our years of implementation and testing, we have found a direct correlation between case  acceptance success and the use of the New Patient Relationship Form.  The New Patient Relationship Form is the patient relationship charting system that maps out the customized case presentation path.
Use it and you win.
Neglect it, you lose out and so does the patient because they get less of what they want and more of what they   don't want which is just a laundry list of all the things that are wrong with them.
The New Patient Relationship Form is just one of the specific dental case acceptance strategies that we teach     and train every team member to master when they attend the Total Patient Service Total Immersion course.    It is basic training for any team that wants to reach the highest levels of case acceptance in dentistry.
Is the New Patient Relationship Form on your list of non-negotiables in you case acceptance system?  If not, add it today.
For the most updated information on the Total Patient Service New Patient Relationship Form, give our team a call today at 1-877-399-8677 or email us at Answers@TotalPatientService.com