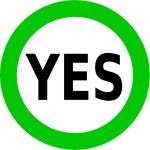 When The Answer Isn't Yes
What do you when patients ask a question to which the answer is not an immediate "Yes?"   If your goal is to have a "Yes" practice and help patients find the right answer, you have to have the right skills to get to a yes – even in the most difficult circumstances.
For example, a potential new patient calls and asks "are you open on Saturday?" If your practice is not open on a Saturday, your reaction may be to just say "no". That would result in the immediate end of the phone call and you've lost a potential new patient. So what do you do to retain the prospect while at the same time answering honestly in a way that will result in a scheduled appointment?  Instead of answering their question immediately, answer their question with a question to find out more information.
One way to respond might be: "Thanks for asking, it sounds like you have a very busy schedule. Can you tell me a little about your schedule?" When the other person shares what the real difficulty is, then you have more information to work with in order to suggest, or give, appointment times that might work for both of you (See the previous two blog posts – Parts I and II of "Say No to No").
One of the most difficult questions for fee-for-service practices, or any practice for that matter, is "do you take my insurance?" The answer to that question should NEVER be an immediate "yes" or "no" because you don't have enough information to answer the question. The best response is a question like "We work with many of our patients' insurance benefits. What benefits do you have?".
Armed with that information that comes next, you can then share specifically how you work with patients that have that specific type of insurance – whether you are contracted or file for them – to help them maximize their benefits.
So, the next time you are faced with a question where the immediate answer is not a "Yes", pause and answer that question with another question to get more information so you can suggest or give options of some solutions that will result in a yes.
It's just one more skill to help more patients to say "YES" to needed treatment!