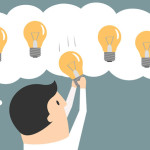 The best practices that we work with that have a number of things in common.
Here's one: consistent systems that everyone follows to get proven results.
One example is the ToPS Case acceptance system as taught in our Total Immersion course.
When every team member talks the talk, walks the walk, and understands the philosophy behind the entire system, then case acceptance results are predictable, consistent, and continually improving. That's why one of the best practices of the best practices is making sure that every team member attends the ToPS Total Immersion course within the first several months of being hired. Take for example the practice of Dr. Scott Ballard of Ballard Family Dental that always sends new hires to a Total Immersion with a veteran team member. That way the new team member gets a good orientation on the ToPS case acceptance system while a veteran team member gets a refresher course at the same time and the two of them can go back to the practice and re-energize the entire team in areas where there are opportunities for improvement
So whether you have veteran team members, new team members, or both, it may be time to adopt this best practice of the best practices by making sure everyone stays trained in the proven systems that work for case acceptance and Total Patient Service.
For upcoming Total Immersion dates and locations around the country, click here.