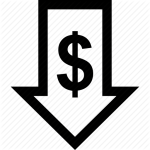 On a regular basis, I get phone calls from dentists who ask whether or not they should opt out of being contracted with PPO's. On the other hand, I also get calls asking if they should opt in. The answer is not a clear cut, "one answer fits all". But here is a fact to consider: Prices, over time, always decline.
When new technology comes out on the market, it sells at a premium. As more competitors come into the marketplace and the cost of manufacturing goes down, the retail cost also goes down. The intraoral camera that originally sold for $20,000 when it first came out, now sells for ¼ or 1/8th of that price. Prices always decline.
When whitening first came out on the market, practices were charging $500 to $900 to do take home or in-office whitening. Today, many offices give it away! Prices always decline. We are now seeing the same process unfold as insurance companies put downward pressure on fees. When was the last time you received a letter from an insurance company with which you are contracted that said, "Good news, this year we are paying more for crowns, bridges, veneers, etc." Not likely. Prices always decline.
How do you combat fee erosion? One way is to stay on the leading edge of newer treatment services: Implants, ortho, sleep apnea, prepless veneers, comprehensive perio treatment, endo, etc. Expand your services and you will expand your ability to stay at the head of the fee curve.
Prices may always decline, but your expertise can always be on the incline.