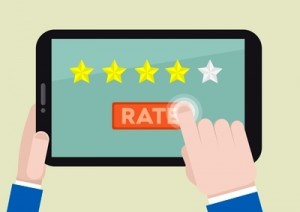 While working with a dental team this week in their office, we focused on getting more and better on-line reviews.  Right along with restaurants, consumers look at on-line reviews of the dentist before making a decision more that almost any other purchase.  What your patients say about you on-line matters, especially if you are a dentist.
We get asked a lot about the secret to getting great on-line reviews.  There are a lot of apps for this today and we've tested a lot of them.  There are a few that are really effective and do a great job.  (For recommendations on the best we have tested to date, call us at 1-877-399-8677 or e-mail your request to Answers@TotalPatientService.com)
But whether you have an app for getting on-line reviews or not, we've found one underlying secret that runs consistent through all the offices that that the most and the best on-line reviews:  They ASK for them!
Even if you have a great app for getting on-line reviews, patients are not going to do much with your digital request unless you ASLK them for a review while you are face-to-face.  We've seen the results.  Even with a good app in place, practices that proactively ask their patients for a review while they are face-to-face with the patient get 3 to 4 times as many reviews as those who don't ask while the patient is in the practice.  Like most other things in life, if you want it, you have to ask for it!
So, start asking.  Don't think that a digital request via text or e-mail is going to do the job.  Nothing takes the place of a sincere request while you are face-to-face!
Here is one of the most overlooked opportunities that costs nothing and is just sitting there.  Here are the exact things you need to do:
Track on a daily basis the number of potential new patient calls that come into your office each day.  Anyone who answers the phone in your office just keeps a tally of how many calls they answer from anyone who makes and inquiry about the practice.
Track how many new patient appointments are scheduled each day.  These two numbers should be recorded daily so that the team can see how successful they are at converting "inquiries" into scheduled patients.
In the past, we always thought that if we could convert about 80% of the prospective patients, we were doing OK.  After all, you are not everyone's dentist and you won't be a good fit for everyone.
That 80% target changed not too long ago, thanks to a very perceptive team member who understands that the purpose of the practice is to always be creating happy, paying patients.
In looking at the statistics of one particular office at the end of a month, I noticed that the calls to scheduled new patients ratio was over 130%.  I thought there was a mistake and that the two lines had been switched.  Upon further investigation, I discovered that everything was totally correct.  Not only was the new patient being scheduled, but each one was being asked, "Who else do we need to get scheduled today who needs to come in and see us?" or something similar.  In other words, JUST ASK!  If a new patient is calling your office, chances are that someone else in their life needs a dentist as well.  So, just ASK who that person is.
So, the next step is:
Ask every new patient after he or she schedules a new patient appointment, "Who else do we need to get scheduled today?"
While we used to just shoot for 80% in the past, today we compete to see how many new patients can be scheduled in one call!  The record so far…7!  7 new patients scheduled from one phone call.  Just because someone asked!
It is a simple idea.  But a very powerful and profitable idea to leverage your marketing dollar.