This week I was in a new office that I had never been in before and it was running behind…really behind. When I asked one of the dental assistants what was going on, she gave me the story of how things had gotten so terribly off track. "What do you do when things like this happen?" I asked. The response floored me when she said, "I don't know. I'm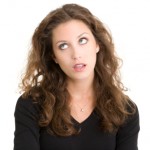 just the stupid dental assistant who works here." "Really?" I asked. "At least that's what he thinks," she responded.
Somewhere along the line, this dental assistant had received a message loud and clear that she was not valued and that she was there to just fill a hole. Her attitude showed it.
Everyone wants to know that their opinion matters; that they really count.
In a Crown Council Mentor of the Month program, that will be released this coming week, entitled "The Myths of Team Motivation" we talk about things that really motivate and demotivate us all. Ironically, what leaders typically think motivates and what really motivates are different. Sometimes we just don't get it.
One thing is for sure, what your team thinks you think about them can be a  or demotivator as it was in the case above.
Make sure they think right!
For a copy of "The Myths of Team Motivation" just email us at Answers@TotalPatientService.com