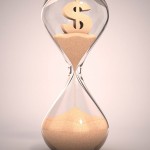 Several years ago we banned the morning "huddle."  A huddle is characterized as a short team gathering where one person declares the strategy or the "play", everyone says "break" and the team is off to play the game.
 Today's "game" of dentistry requires much more than that.
Here's why:
40 years ago consumers would spend their time to save money: mow their own lawn, change their own oil in their car, do their own laundry, cook their own dinner.
Today, consumers do the exact opposite.  They spend money to save time.  They hire a landscaping company to do their yard.  The minute lube changes their oil.  They take their clothes to the cleaners.  And we are going out to dinner multiple times a week.  Time has become the consumer's most valued asset.
To cater to what patients want today, there must be a daily strategy to help people make the most of their time.  That's why the morning huddle has become the "Morning Opportunity Meeting" to strategize how we can help patients make the most of their time in the office today.  Where are all the opportunities to do more for them in less time?
Here are some examples:
How can we help a restorative patient on the doctor's schedule make better use of the time spent by doing more restorative work while he or she is here today so another appointment isn't necessary?
How can we help hygiene patients make better use of their time today by having some of their unscheduled treatment taken care of today?
How can we better accommodate emergency patients today by doing more of what they need done while they are here?
How can we help the new patient by getting started with treatment today instead of having to come back to get started?
Opportunities are everywhere to help patients make the best use of their most valued asset; their time.
Everyone on the team can participate in the process by looking at the schedule during the Morning Opportunity Meeting and identifying all the potential ways that patients can do more in less time by doing things TODAY.
By maximizing every opportunity in the schedule, including openings, no shows and last minute changes, you can help your patients get what they want in return for their time and effort spent.  It is one of the most important strategies you can employ today to help your patients get what they want…more time!
For a detailed Morning Opportunity Meeting agenda, give the Total Patient Service team a call at 1-877-399-8677 or email us at answers@totalpatientservice.com.