We've all heard the saying, "What's good for the goose is good for the gander." I know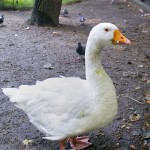 what a goose is. But what is a gander? It is a male goose. Translation: what's good for her is good for him.
That reality came home recently at our ToPS Halftime Round Table where dentists meet to exchange the best of what they are doing to improve their practices. During our recent session, we ran a concurrent session for business administrators. We asked the admin. team to anonymously share with us the things their dentists could do to improve office productivity. The list was revealing. In short, it was the same things that a doctor would expect of his or her team:
• Be on time.
• Be prepared.
• Don't interrupt.
• Don't make personal calls on your cell phone in the office.
• Don't tell the patient they can wait on treatment.
Etc., etc. etc.
In short, if you were to make a list of all the things a doctor would expect from any good team member, just apply those same things to the doctor. In short, "What's good for the goose is good for the gander." (I know all dentist are not male, but just go with me on this one!)
No matter your position in the office, don't expect anyone else to do something you are not willing to do yourself. We're all part of the flock!
Make sure to take advantage of the next ToPS Round Table on November 29-December 1. Dental Assistants are welcome to participate as well in a special Round Table designed specifically for clinical assistants. For more information, call 1-877-399-8677 or e-mail: Answers@TotalPatientService.com