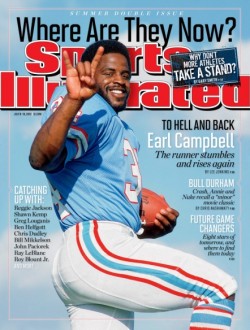 Every year,  Sports Illustrated produces a publication that makes for some great lessons in life. It is their annual summer double issue featuring athletes of yesteryear and "Where Are They Now?" feature stories.
Story after story is a great reminder that life is not just a single victory, but a series of "games" which you get to play and constantly better yourself. Some athletes like Earl Campbell had great victories on the football field only to face great personal defeat through drug and alcohol addiction and the then overcome that defeat to bounce back to personal and business success.
Those stories, and their reminder that life is a journey, not a single game or victory, raises the question, "Where are YOU now?" How would your story be written if you were the subject of a "Where Are They Now?" article?
If that feature were to be written about you five years from now, could I suggest some items for consideration and personal planning today?
What are you doing daily to build your family relationships? Each of the SI feature stories highlights the impact and importance of family. The investment today yields the dividend tomorrow.
 What are you doing to give back? The most value in life comes from what we give, not from what we get.
 Where are your bright spots at work? What do you love most about your work and what can you do to expand on that?
With so many good examples, it is easy to "copy genius" and have your own "Where Are They Now?" story be one of triumph and success.
Make your future "Where Are They Now?" story one of the best by asking yourself "Where am I now?" The story is always being written.
So….
Write it right!
And…
Right it now.